The pistol carried by Captain Malcolm Reynolds in the "Firefly" television series and again in the movie "Serenity" is based on a modified Taurus Model 85 .38 Special revolver. The base revolver was covered in a brass casting to make it look like a gun used during the American Civil War. Joss Whedon, the creator of "Firefly", described the pistol as being a "Moses Brothers Self-Defense Engine Frontier Model B."
This kit represents the pistol as it was used in the television series. The movie version had a modified bottom-mount clip, a bulked-up right side plate, and a spring-loaded rear sight.
The kit has three pieces: the main gun and two handgrips. The parts are cast in black resin, and they are beautifully cast. It appears that very little cleanup will be needed. The handgrips feature fine wood-grain detail, and include cast-in Phillips-head screws. The parts fit very well, even prior to cleanup.
This is the television version of the gun: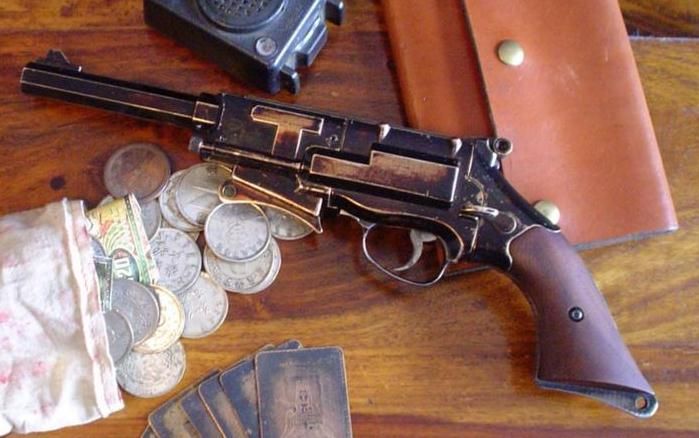 And this is the movie version of the gun:

Here are a couple of shots showing the prop weapon open: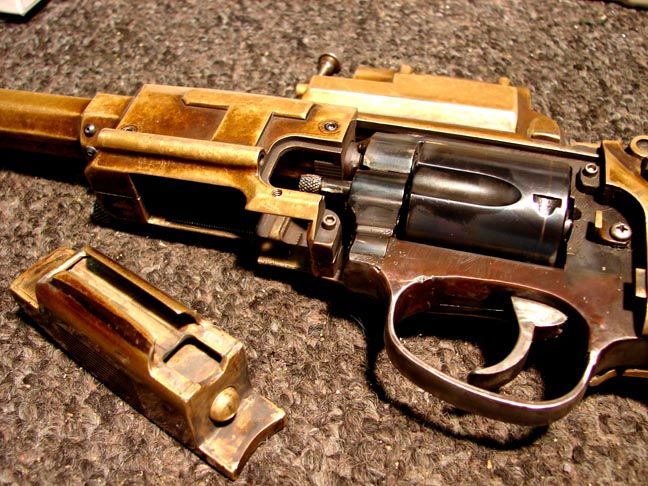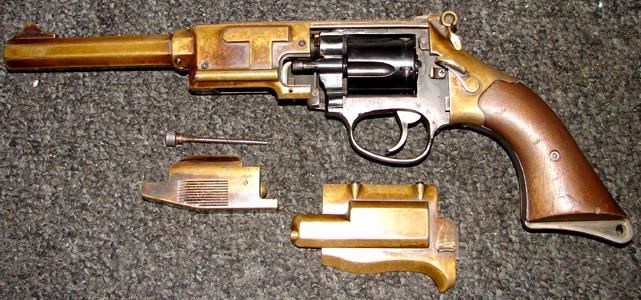 The completed prop is about 14.75 inches long.
If you are a fan of "Firefly" and "Serenity", pick up one of these prop replicas for your collection!
Review by: Rich "Lonewolf" Dula
Entry created: January 1, 2013