This was one of those kits that I'd seen on shelves, had thought about from time to time, and didn't think I'd ever buy. Then I saw it in a booth at WonderFest 2013 with a $12 price tag on it, and I figured "what the heck" and bought it.
Black Widow was portrayed by Scarlett Johansson in the Iron Man and Avengers movies. Moebius' representation of Ms. Johansson is decent, and it does look quite a bit like her from certain angles. Her face does seem a bit "pinched" from the front angle, but it's not hugely noticeable. It's a decent representation.
One plus is that this kit is in scale with the other Moebius offerings from Iron Man, including the Iron Man and War Machine kits (available separately).
I have read some reviews that express disappointment upon opening the box, and I have to admit that I had a bit as well. Not with the quality of the molding, but more with the number of parts, locations of seam lines, that kind of stuff. Moebius did a nice job on this kit, and the molding is crisp and without any flash or ejector marks. The parts are molded in styrene that is sort of . . . . orange, I guess. It almost looks like it's made from a melted orange creamsicle.
As far as the location of seam lines, it's going to take a lot of careful sanding to remove them. The body is molded in front-and-back sections, which are easy to deal with. The right arm, however, is molded in right-and-left sections, meaning the line is running right smack down the front surface. The left arm is molded in front-and-back, so it's not as bad. The final bad location is on the boots, which are molded in right-and-left halves with the seams down the facing surfaces. This is going to be problematic in that there is a lot of detail on the boots, with raised rib sections, and the builder is going to have to be VERY careful when sanding to avoid removing details or flattening the surface.
Anyway, the kit has a total of 23 parts, including: face, body front, body back, utility belt (2), right arm (2), left arm (2), right wrist, left wrist, right hand, left hand, holster (2), right boot (2), left boot (2), hair (3), and the base.
The pose of the figure isn't bad, but I'd kinda like something with a little more action feel to it. When I build her, I might end up posing Black Widow with her gun drawn, either with the pistol aimed and ready to fire, or pointed above her shoulder, as if she is looking around for her next target. Another option, depending on how much resculpting is needed, would be to pose her with one leg up, in a running position, with her gun at the ready. I might also scrap the idea of using the pistol, and see what other weapons are available in the same scale (leave the pistol in her holster, and give her an MP-5 or something along that line).
The completed figure stands about 8 inches tall, and the base measures 4 inches by 6 inches.
This is a decent figure to build, providing good experience for a beginning figure modeler, and that will look good on your display shelf. Below are a couple of examples that were in the Amazing Model Contest at WonderFest 2013 in Louisville, Kentucky.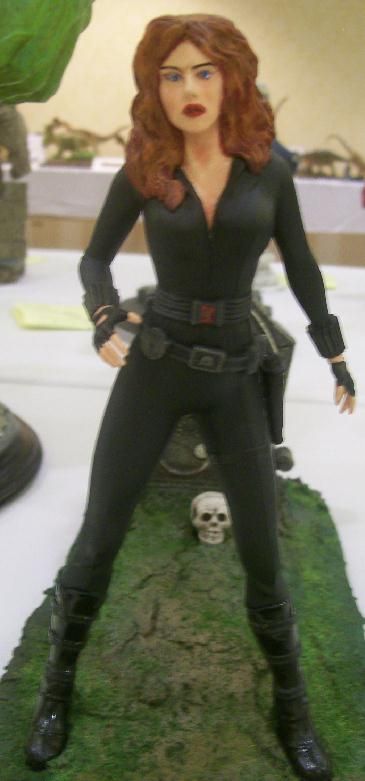 Review by: Rich "Lonewolf" Dula
Entry created: May 30, 2013